The 50-60 Something™ Start-up Entrepreneur Membership Program
The face of entrepreneurship is changing globally. The ever-increasing number of mature adults over the age of 50, who found themselves laid off or had their roles scaled back and unable to find a job, turned to entrepreneurship out of necessity.
Many 50-60 Something individuals simply are not financially ready to retire from work. Yet the likelihood of re-entering the workforce with a similar high paying salary will be extremely challenging. Sadly, many may not be rehired at all.
Influenced by the increase in corporate layoffs of senior executives in their fifties and sixties, longer life spans, ageism in the workplace, and the need for long-term financial security, the world is witnessing the rise of the encore entrepreneur.
Yet transitioning into encore entrepreneurship can be daunting for adults who have spent decades working for someone else. Many are willing to take the plunge, yet they are challenged with the question of where and how to begin?
The 50-60 Something™ Start-up Entrepreneur Membership Program equips mature men and women with the knowledge, skills and mindset to move from military retirement or retrenched corporate employee to an educated and empowered entrepreneur be it on a full- or part-time basis that generates passive income.
The 50-60 Something™ Start-up Entrepreneur Membership Program offers you a step-by-step process that shortens your learning curve to business ownership and puts you on the path to the restoration of earnings.
How it Works:
Tapping into the Lean Canvas model (which is an adaptation of the Business Model Canvas), and the 8P's entrepreneurship path framework, you will go through a step-by-step process that has you start with a business idea and then construct a 1-page business plan which addresses nine basic business elements.
The Modules and Video lessons will guide you through the nine business elements to further develop the overall business blueprint.
The Success Pathway: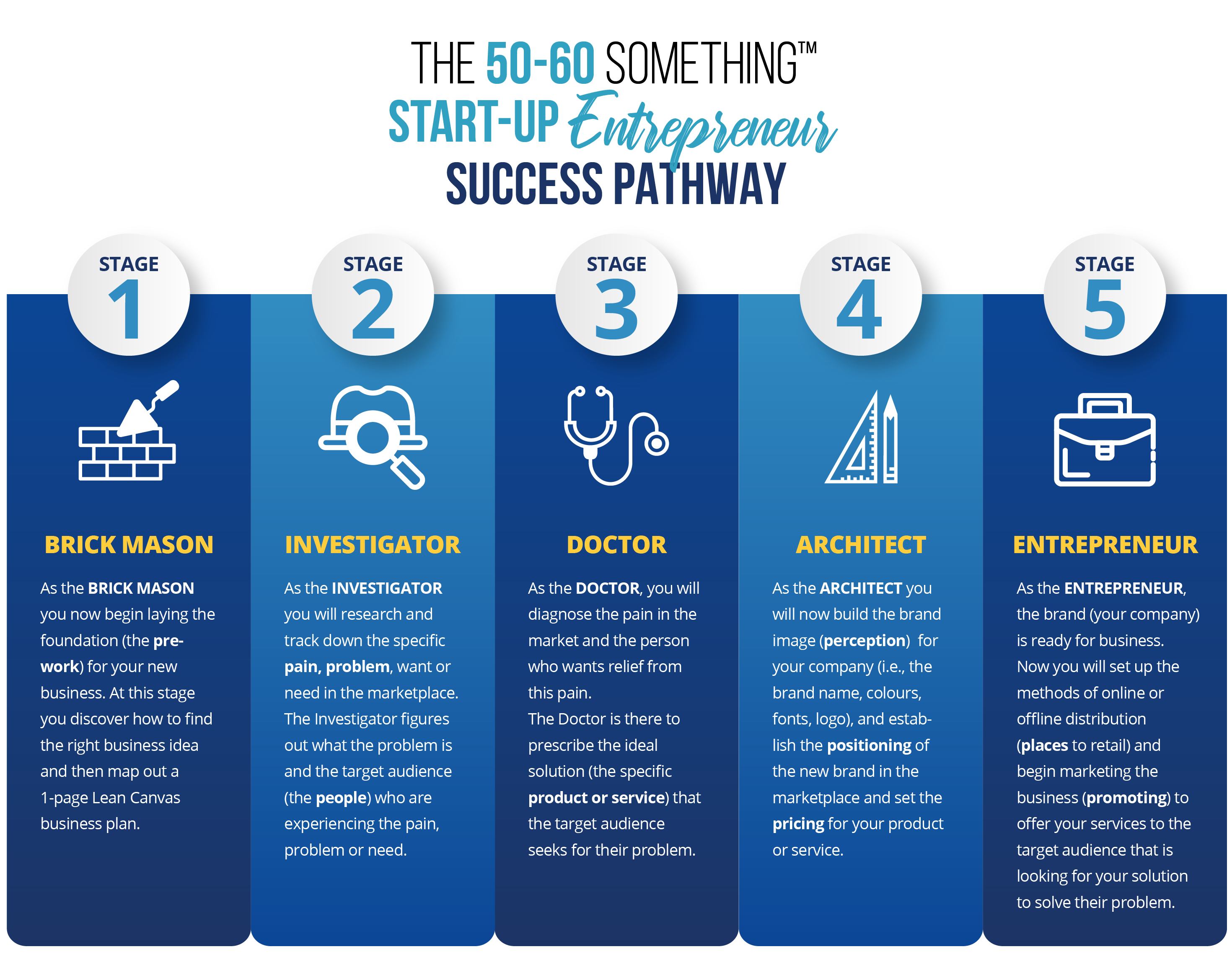 WHY YOU SHOULD BUY THIS PROGRAM:
Unlike entrepreneurs in their 20s and 30s, mature start-up entrepreneurs do not have the luxury of a long learning curve to figure the ins and outs of running a business. A 12-month diploma course or 6-month short course requires a major commitment in time to complete. New encore entrepreneurs need to get into action quickly and hit the ground running. The 50-60 Something™ Start-up Entrepreneur Membership Program allows you to learn what you need and to get started in less than six months and receive continued support throughout the year.
WHO IS THIS PROGRAM FOR?
Mature men and women looking to move from the corporate world to set up their own business venture; PMETs (Professionals, Managers, Executives & Technicians ) looking to start a new career; Individuals moving out of the military or civil servant positions, Empty-nesters or mature people looking to create an additional revenue stream to supplement their lifestyle or support themselves and or their families.